2010/10/07
1973 台大大氣系
本文在新浪的網址
http://blog.sina.com.tw/grade4/article.php?pbgid=15096&entryid=608208
Q:
請問爲什麽地理系的學號也是5828XX?
如何分辨入學時是大氣系還是地理系呢?
A:
我們進台大時都是地理系,當時分成地理和氣象兩組。地理組學號是582801-582812 (?)
1973 年初氣象組獨立改名為大氣系,地理系地理組成立地理系。
由於轉系(組)的關係,當年地理系只有一位畢業生,香港僑生蔡敷治。
Grade4 Moderator於 2010年2月16日下午4:48:
Wow,這就是我需要的故事。
所以1972年(含)以前沒有台大大氣系畢業生。
1973級是正宗大氣系畢業生始祖。
各位學長姐,

我昨天在NJ見到邢美田學姐。請大家幫忙把附件的泛大氣系通訊錄中失聯同學資料填上補齊,有空時並用reply all互相問好。

2013年要支持1973級台大畢業40年全屆重聚會喔。

林莉 (AKA 02)
(1969復興﹐1972復興﹐1975北一女﹐1979 台大商學系)
2010, 10, 05
林莉,

Wow, I can't believe how fast you have acted on this!!! Thanks!! It was great meeting you and getting in touch with my old classmates so quickly.

There are two important omissions : Nancy Chen and Chih-Ping Hsu, I guess they will give you more complete information.

Have a safe flight home.

美田
Meitien

Dear Classmates,

How are you all doing for the past 37 years!! It is really nice that we can get reconnected again.

I guess we still have a few missing from the email list, 林莉 has been organizing mailing lists for people like us for the past six years, and she is doing magic. I was lucky to see her yesterday.

Best wishes,
美田
Meitien
2010, 10, 05
Dear Classmates,
Long time no see! After NTU, I went to Univ. of Maryland for Master Degree and Dropped off from Univ. of Illinois Ph.D degree. I am always doing some kind of real estate investments while I was working. Since 1993, I started to manage my own commercial building (retail and office) full time. Then I realized that I am very handy - know how to fix a lot of things. Finally I found a job which I like and very rewarding. My office is 30 miles nortwest of Boston, MA.
My son is 29 yrs old working for General Dynamics -system engineer. My daughter is 23 yrs. old working for Procter and Gamble - product research.
Hope to hear soon from you. Sorry I don't know how to type in Chinese.
The attached is the photo which my high school classmate took during our fishing trip on Sept 5 2010.
Chia-shing(Nancy) 程家心
2010, 10, 06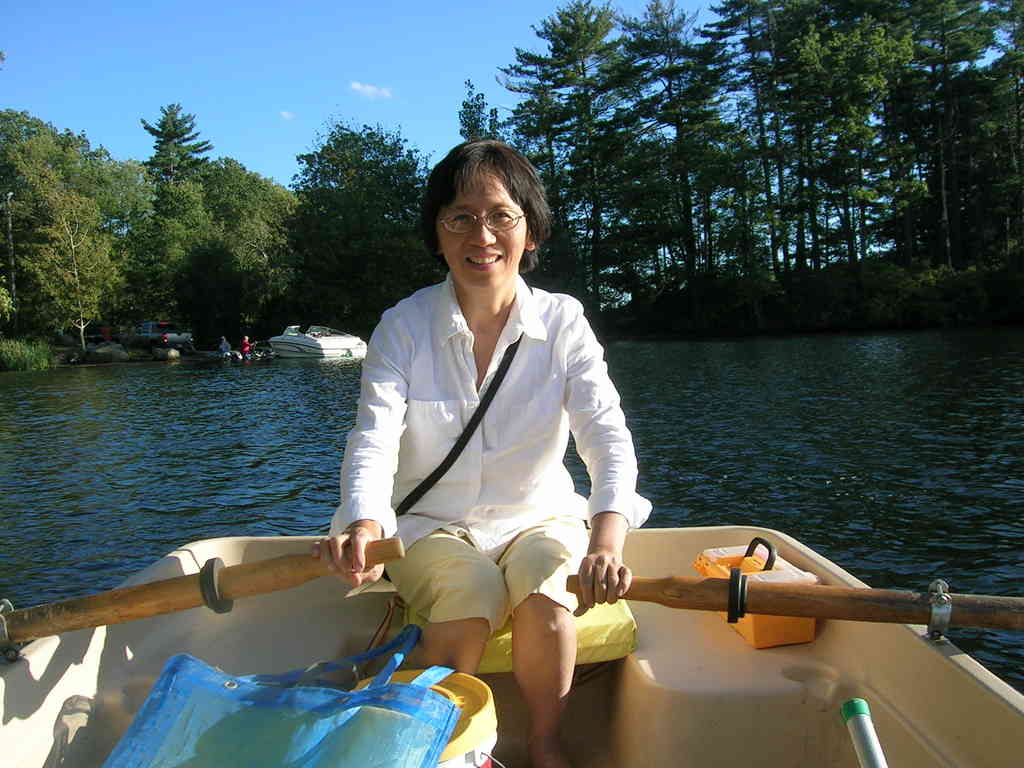 2010, 09, 05
程家心


Dear Classmates:
Let's say "Thank You" to 林莉 . Without her enthusiasm, it is impossible for us to make contact again. I should apologize for being too lazy to call everybody. I have all my career and two third of my life being connected to our department. After NTU undergraduate, I went to Hualian to serve as a high school science teacher for two years. I came back to our department to serve as a TA for another three years. Then I came to University of Wisconsin-Madison after I earned a scholarship from the Ministry of Education. I got my MS and Ph.D degrees from UW-Madison in six and halve years. Then I came back to our department. I got married after I came back to Taiwan. My only son is 22 years old. he is doing his military service, which will be accomplished next summer.
You can see more information about me and our department through our department website.
Hope to hear from you and see you soon. Regards

Ming-Chin Wu 吳明進
Professor
Department of Atmospherics Sciences
National Taiwan University
2010, 10, 06
媽耶,真的太高興了。
要不是因為程家心學姐提供照片,並提及是高中同學照的,02不會想到要查自己的資料庫中有沒有程學姐高中記錄。
這一查,居然發現程學姐是1963年復興小學失聯校友。也查到1969年北一女溫班網站。
希望未來也可以有1969年全屆北一女畢業名單及聯絡狀況。以方便1969年高中畢業生循線聯絡小學、初中、高中、大學同學。
02
2010, 10, 07
Many thanks to 林莉 for coordinating. Here is my detailed info. My Chinese name is許志萍; 學號582861

Dear Classmates:

It is great to be reconnected with you after 37+ years. In 1981 (or 82?), there was a mini reunion in New Jersey with five of us (邢美田, 邵錦帆, 黃瀚荻, 林兆平, and myself). Since then, the only classmate I have kept in touch with is邢美田as we both live in New Jersey. I have heard from邵錦帆 about once a year or so. I talked to Kenny Yuen (袁釗衛) once on the phone when he was at the University of Wisconsin. Unfortunately, I have lost contact with him. Perhaps吳明進 can track him down via the U of Wisconsin alumni.

After I graduated in 1973, I went to the University of Oklahoma for one year and transferred to the University of Washington in Seattle. I received my Ph.D. in Atmospheric Sciences in 1980 and did my post doctoral work at Princeton University for two years. I decided to change field and started working at Bell Labs in 1982. Due to the Divestiture of the Bell System, the Lab I was in got moved to Bellcore and later renamed as Telcordia. My current position is Principal Systems Engineer. My job involves writing requirements for network management systems.

My husband is originally from Hong Kong. His B.S. major was Physics and Ph.D. major was Atmospheric Sciences. We met in Seattle. He is a research scientist at the Geophysical Fluid Dynamics Laboratory at Princeton. We have one daughter, Michelle, who is now a junior at Princeton University. Her major is Civil Engineering and minor is Environmental Studies. Attached is our family photo taken at the Niagara Falls in June this year. The "old" lady in the middle is me.

Hope to hear from you. It would be great if we could meet at the 40th anniversary of our graduation!

With the warmest regards,
Chih-Ping志萍
2010, 10, 10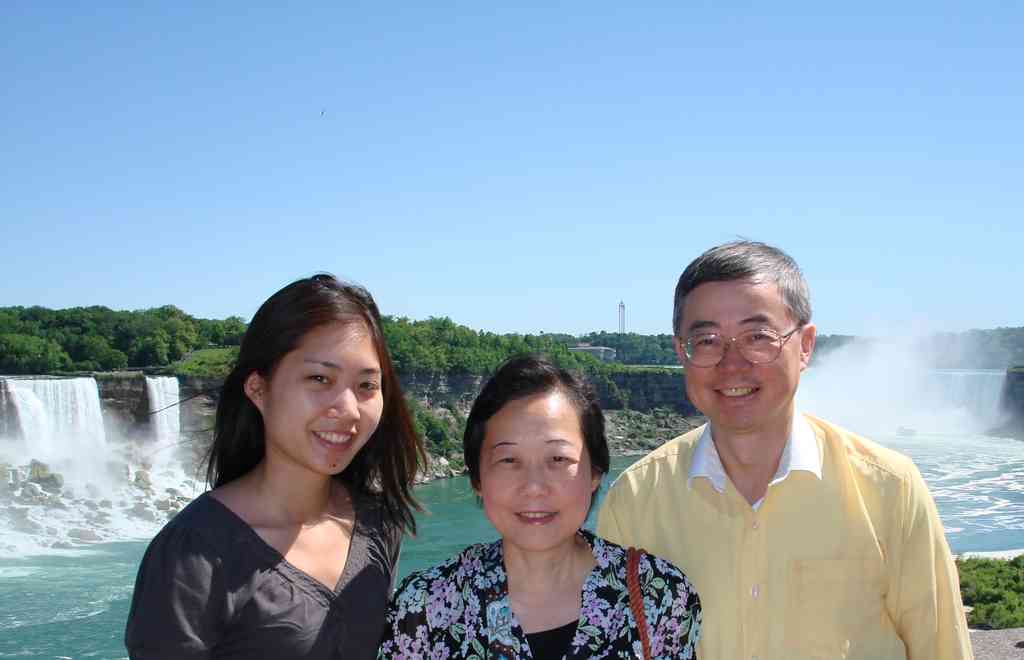 2010, 06 Niagara Falls
許志萍及家人

Dear Classmates,

I visited Taiwan recently and had a mini-reunion with吳明進. Attached is a photo in his office. Hope we will have a larger reunion in the near future.

This is the first time I went back to Taiwan since I left in 1973. The campus of National Taiwan University has changed a lot. The main boulevard with the palm trees is the same but the campus has been expanded and modernized. The old building of our department has been renovated and connected to a newer building. Attached is a photo of the front of the newer building.

Hope to hear from you soon.

With best regards,
許志萍
2011, 06, 13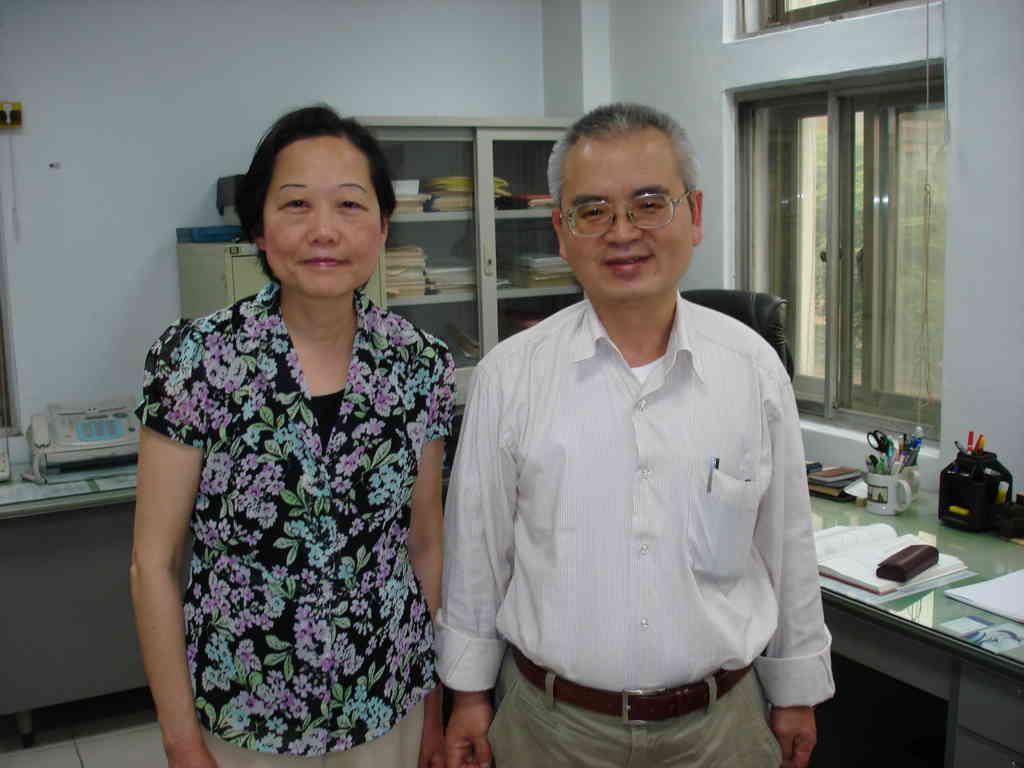 2011, 06, 台大大氣系館

許志萍、吳明進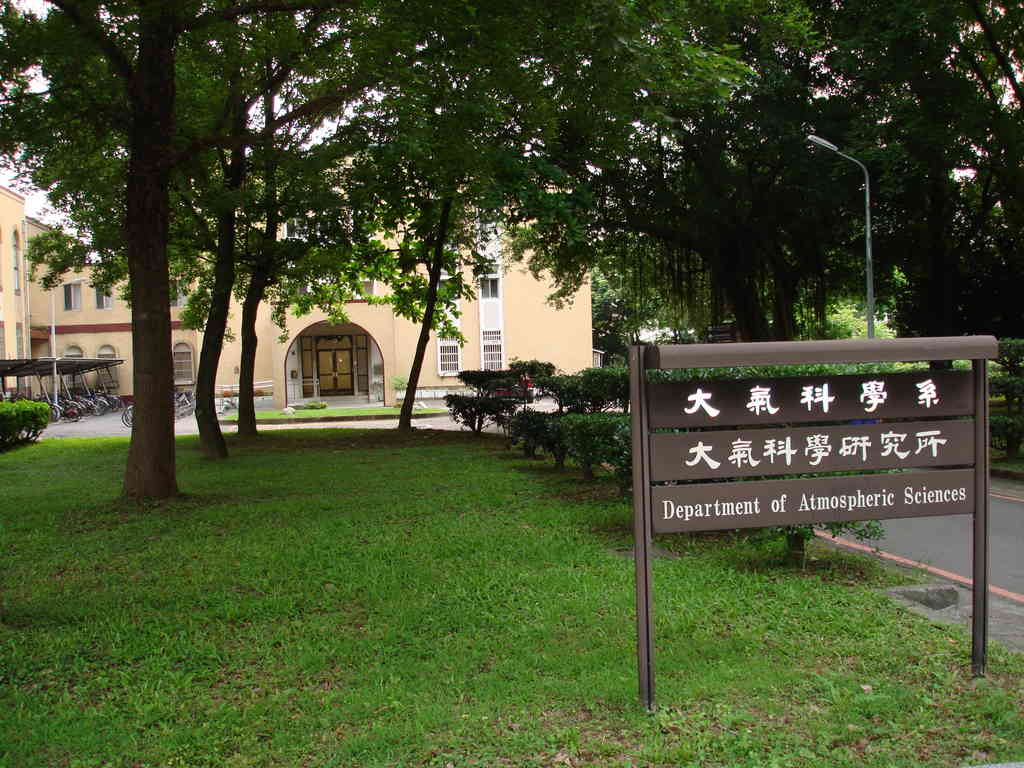 Dear Chih-Ping,

It is so excited to see those two pictures. We were college classmates more than 40 years ago. My sister sent the documents for applying Taiwan's passport to me half year ago, I haven't had chance to apply it yet. I haven't traveled for long time therefore it is extremely happy to see your e-mail.

Chia-shing Nancy (程家心)
2011, 06, 13

志萍,

It is so good to see your two pictures, now we know how time flies. It will be so much fun to have a reunion.

Meitien
2011, 06, 14

My dear alumni,

It is so amazing to know each other via e-mail.
My name is 李元正 (ID: 582805). You may remember the three folks (許欽鐘, 賴典章 and 李元正) who studied in Geography Department for one year and later transfered to Geology Department, After graduating from NTU, I had 2 years military service, 2 years graduate school at NTU Oceanography Institute and 2 year research at the Earth Sciences Institute, Sinica Academia.

In 1979, I studied Geophysics at Columbia University and had a chance to meet 吳作樂 at the school. Actually my PhD (1983) was from Colorado School of Mines. After finishing PhD, I taught 4 years at U. of Texas then joined ExxonMobil in 1987. I have been working at ExxonMobil for 24 years. I am the technical advisor for the deep water exploration and work coule more years before my retirement. I have two sons both are engineers. My first son has married. I prayer that I will be a grandpa soon.

If I have a chance back to Taiwan, I would like to visit NTU and meet my 'old' friends in Taiwan.

Cheers,
李元正
2011, 06, 19

Dear classmates,

Hello, my friends! I am 582863 袁釗衛 (Kenny or Ken). Sounds like I am a jail bird!. It has been a long long time since our NTU graduation, 38 years to be exact. Since then, we took different divergent paths of life, busy with our career and family. Yet, my fond memories of you guys, NTU and Taiwan, live on vividly in my mind. Ming Chin and I were also fellow students at U of Wisconsin and I know he teaches at NTUAS all along. A few days ago, I sent him an email (please see a copy below), informing him of my upcoming Taiwan visit. I hope to meet some of you in Taipei on 8/10, a Saturday!. Not much excuse not to show up, right!

Flossie, you look great in the photo, pretty as ever.
Nancy, our landlady, I hope you have already found your new and, more importantly, a much better mate. I did not receive your fishing photo.
Meitien, how are you?
Sorry, guys, naturally I just have to say special hello to our fine lady classmates.

I am stopping by San Francisco between 22/9 to 30/9. If any of you live in the vicinity, we should meet for old time's sake.邵錦帆, I think you are closeby, right?. Anyway, feel good to get in touch with you all.


I'll post my photo soon!



Best Regards

袁釗衛 (Ken)

-------------------------------------------------------------------------------------------------------------------------------------------------------------------------------

Hello professors,

Hello! Hello! This is Ken, 袁釗衛 . I have retired from Meteorological Service of Canada six months ago and am still living in Toronto. I'll be in Taiwan from 5/10 to 16/10, participating 百年國慶及政大世界校友嘉年華會參訪團 and my nephew's wedding. This is my first long visit of Taiwan since NTU graduation, disregard of the 3-day stopover in 1978.

We should get together for old time's sake and the best time for me, may be for you too, is 8/10 (Saturday). 12/10 is another alternative. For the rest of the time, I have to stick with the tour group or my bothers and sisters and their families.

In the morning of 8/10 (Saturday), I plan to take a walk down the memory lane, by myself, in the NTU campus. Ming Chin, I can meet you at your office before lunch, if I can find it. Chi Farn, can you meet us somewhere for lunch and/or dinner. Bring your families and Winnie should be able to join us for dinner, if not lunch. From 7/10-10/10, the tour group will stay at 台北-馥敦飯店南京館. Please give me your telephone numbers and I'll call you when I get to Taipei on 7/10.

Ming Chin, can you arrange a reunion of our classmates on that Saturday ? Is Chou tai wong in Taiwan? Are there any classmates living in the San Francisco area? I'll be there from 22/9 to 30/9.

Please reply so that I know your email addresses are ok.
Looking forward to see you guys after more than 20 years!

Best Regards,

Ken ( 袁釗衛)
2011, 09, 18


Dear Ken,

What a happy surprise to see your email! 38 years is indeed a long time. Flossie and I have been wondering about your whereabouts for years. Yes, just like the rest of us, I was busy with my work and my family. My daughter is attending UC San Francisco medical school, and I do go to San Francisco from time to time. I will be stopping over San Francisco for the night of Oct 6 on my way to Taiwan.

Alex and I will be going to Taiwan to join a Taiwan tour organized by the graduates of Beinu ( Taipei First Girl High School ) from Oct 8 to Oct 16. We will be arriving Taipei at midnight of Oct 8, and we will attend 百年國慶 celebration show on Oct 9. We may be going to the same show? After the tour, I will be in Taipei from Oct 17 to Oct 19. I'd love to go to Taiwan University and get to meet some old friends also.

Flossie and Nancy both have very presentable pictures, and I have also seen them not too long ago, time really did not seem to leave traces on them much. It will be really fun to see how we all have improved with time.

Best regards,
Meitien (邢美田)
2011, 09, 17

Wow~ 是誰聯絡上袁學長的?
恭喜!恭喜!

看來我應該去盯下列線索了。
http://www.books.com.tw/exep/prod/booksfile.php?item=0010352989

以下是我們還沒聯絡上的校友,對嗎?

謝丹鳳582802
林兆平582804
黃文福582808
蔡敷治582810
方維雅582811
陳幸遇582851
黃翰荻582852
周台黃582854
劉明德572857
晏菱初572863
02
2011, 09, 18
Dear Meitien,

The happy surprise is mutual. Congratulations go to you and Alex for bringing up a high achiever! I have nothing to show in this respect.

It looks like our itineraries in Taipei may overlap somewhat on 9/10 and 10/10. However, the best chance we can meet briefly is late 9/10 or 10/10 night at the lobby of your hotel. (Can I get a hug from you? Ha! Ha!) I'll be staying at 台北-馥敦飯店南京館 ( 易惠英/袁釗衛 ) from 7/10 to 10/10. If you let me know where are you staying and the names you'll register in, I'll look you up.

Presentable or not, this is how I and Winnie (Cheng Chi U, 1973, from HK) looked during a Baltic Seas cruise last June. Now after you have the fun, please reciprocate !

Looking forward to see you in Taipei.

Regards,
Ken (袁釗衛)

P.S. Hello 林莉, I know 吳明進 teaches at NTU and he passed on the mailing list of my classmates to me. Butterfly effect, isn't it? Thank you very much.
2011, 09, 19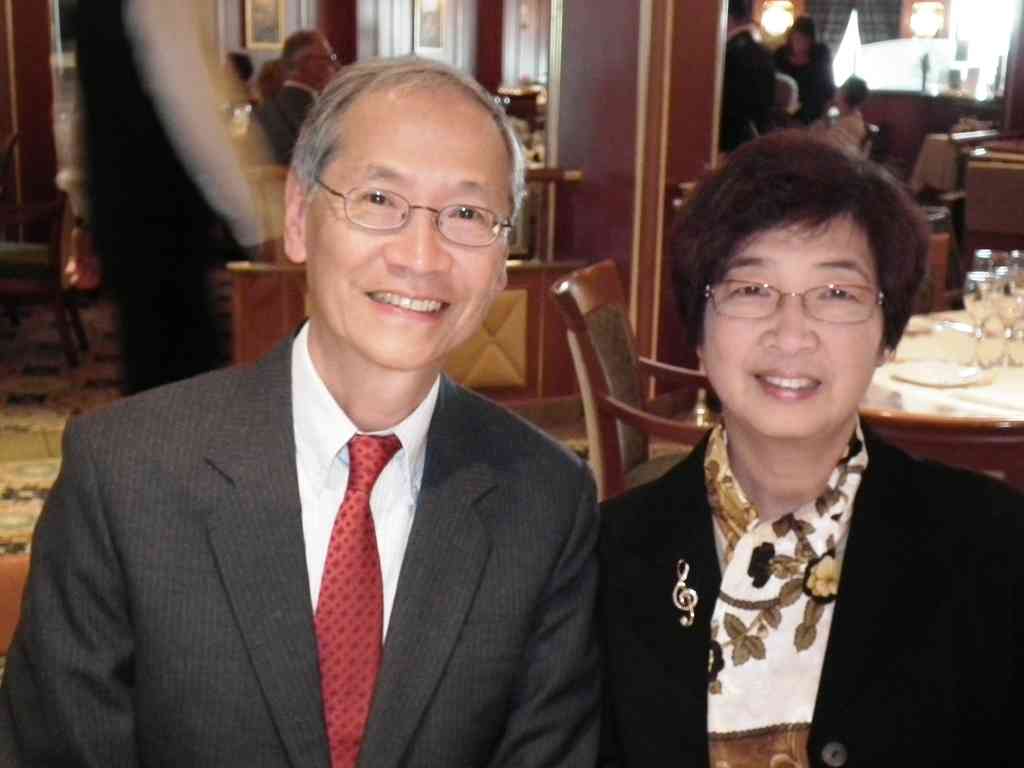 2011, 06 Baltic Seas cruise
袁釗衛、易惠英(1973政大)夫婦
Dear Kenny,

It is indeed a nice surprise to hear from you. As Meitien said, we have been trying to track you down for years. I have visited Toronto several times and wish I knew you were there.

Congratulations for your retirement and thanks for sharing your photo. You and your wife look great!

Sorry I won't be able to go to Taiwan or San Francisco at the same time as you. If you, Ming Chin, and Meitien get together, please take a photo and share with the rest of us. We should have a reunion in 2013 (our 40th graduation anniversary). In the mean time, Please tell us more about how you plan to enjoy life after retirement.

My thanks to林莉 for helping us reconnected.

With fond regards,
Flossie許志萍
2011, 09, 19
Dear Ken,

Surprise indeed! Your wife looks very sweet. We have visited Toronto/ Niagara Falls in 1999 when we sent our son to Cornell University as a freshman. I am happily married to my job since my husband left in Jan 2004. I try very hard to live a simple and healthy life. May I have your mailing address so that I can mail you the fishing photo. I only have the hard copy, not e-file any more.

Nancy (程家心)
2011, 09, 19
本文引用網址: