2011/12/25
亞裔青少年
本文在新浪的網址 http://blog.sina.com.tw/grade4/article.php?pbgid=15096&entryid=636986
Mochi Magazine (mochimag.com) is an online publication dedicated to empowering young Asian American women, where they can access a supportive community and gain confidence in their unique backgrounds.

Articles, essays and stories written by high school peers allow readers to see how others cope with similar issues, while pieces written by college women, young professionals and other role models provide inspiration. Story topics include beauty, fashion, health, relationship and college advice, recipes, and more. We recently launched an online forum (mochimag.com/forum) to better connect our community and serve as the place where young women can turn to for just about any type of advice.

S. W.
2011, 12, 25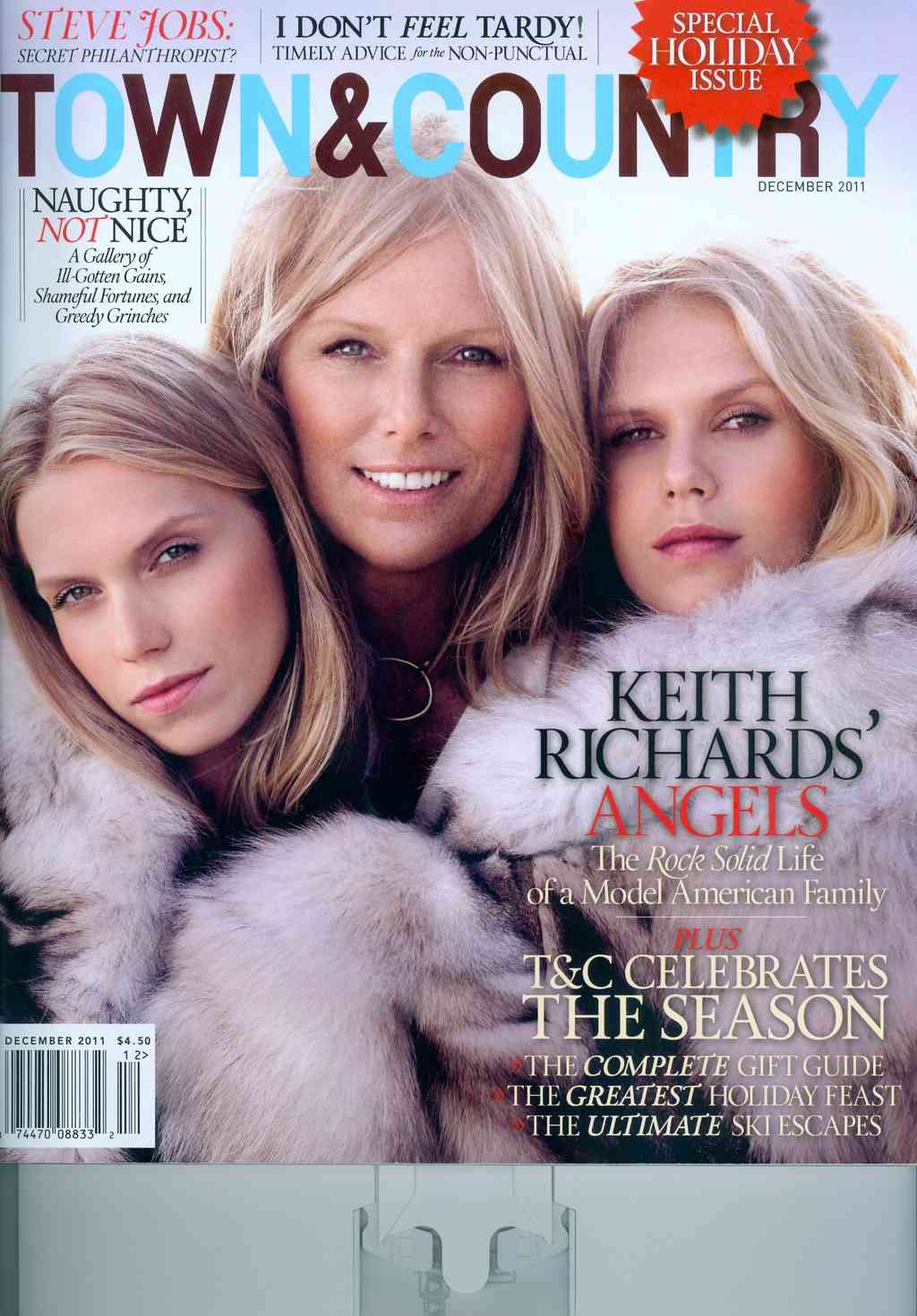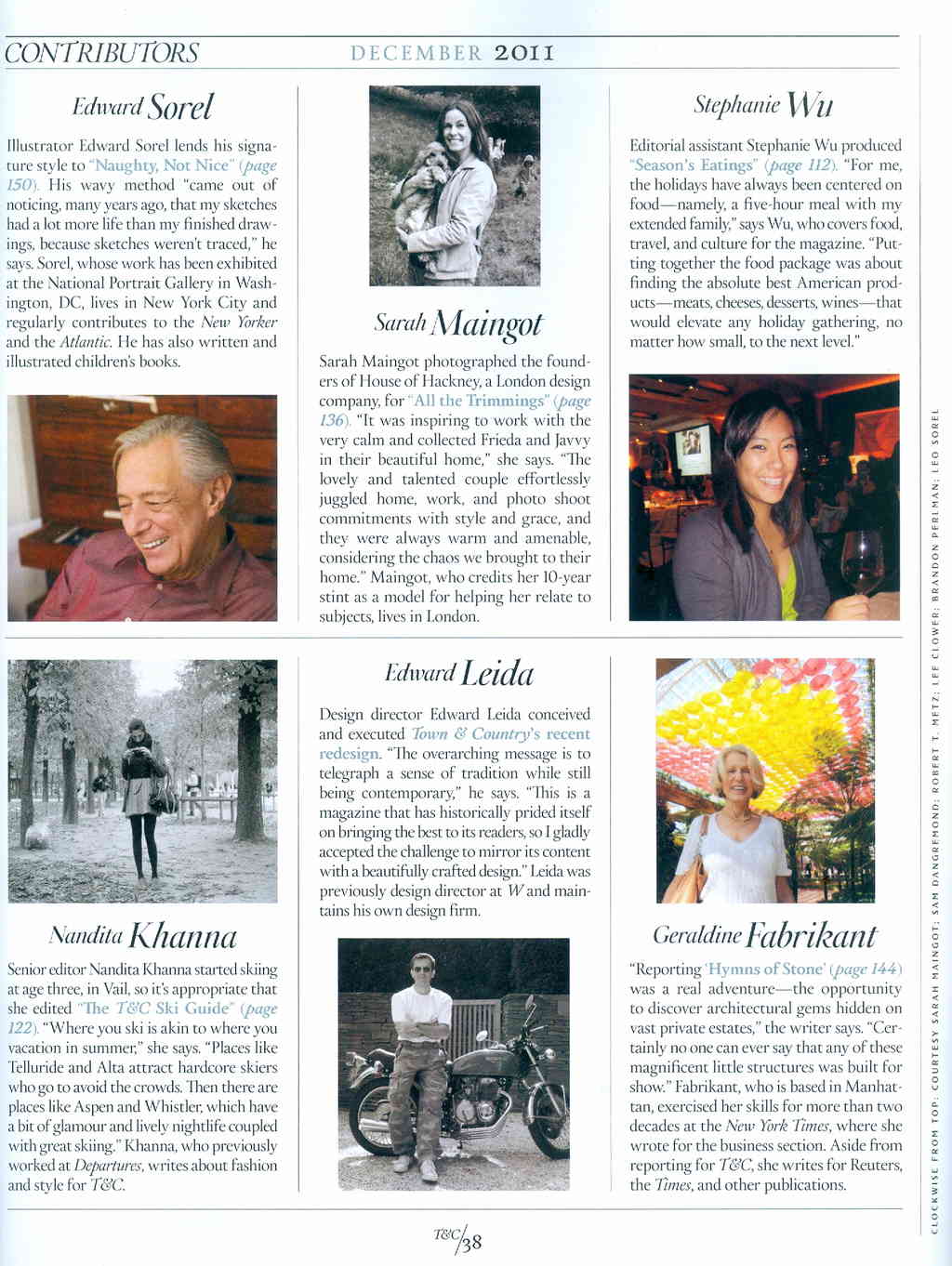 (點小圖變大圖﹐再點右下角變全螢幕)
Town & Country December, 2011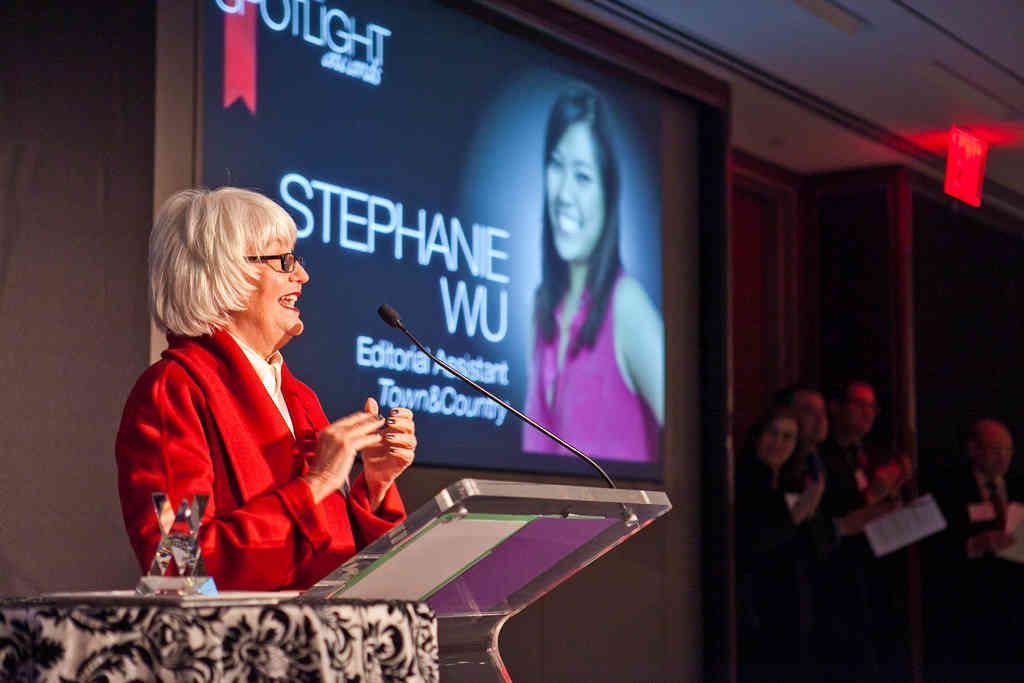 (點小圖變大圖﹐再點右下角變全螢幕)
2012, 01, 24 NYC, NY
Hearst Spotlight Awards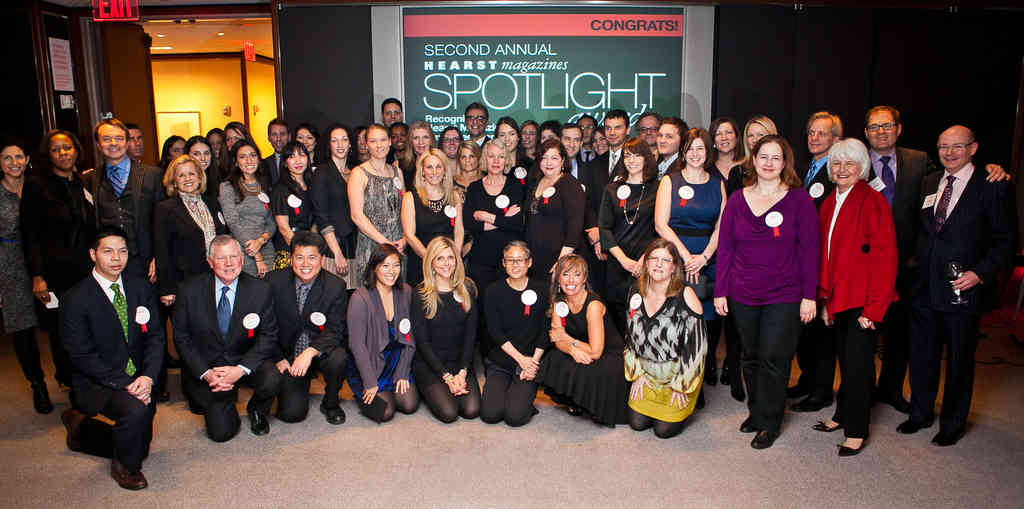 (點小圖變大圖﹐再點右下角變全螢幕)
2012, 01, 24 NYC, NY
Hearst Spotlight Awards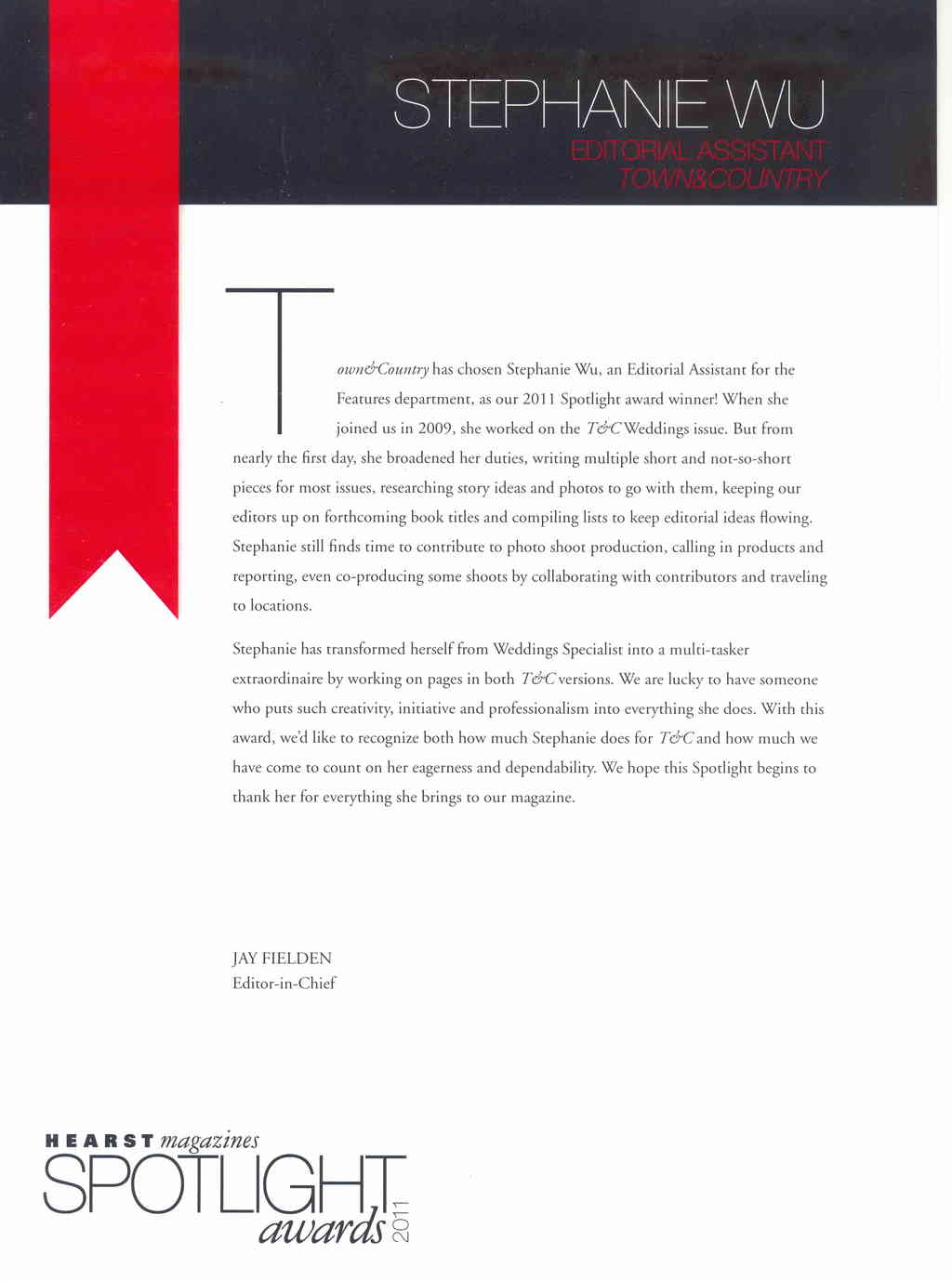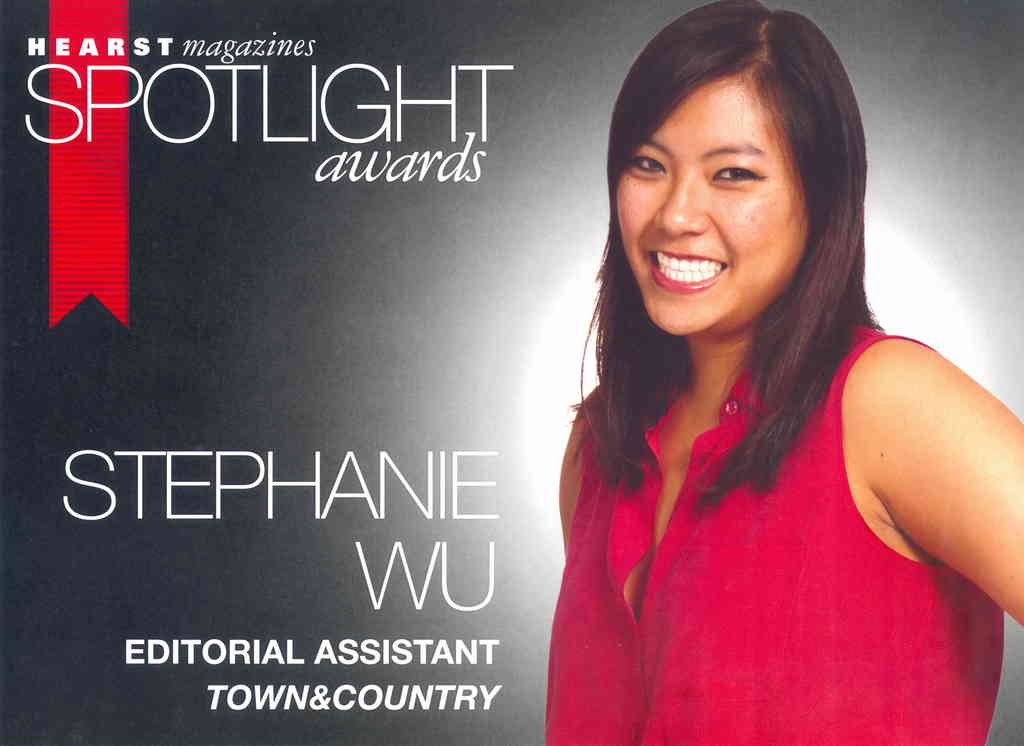 (點小圖變大圖﹐再點右下角變全螢幕)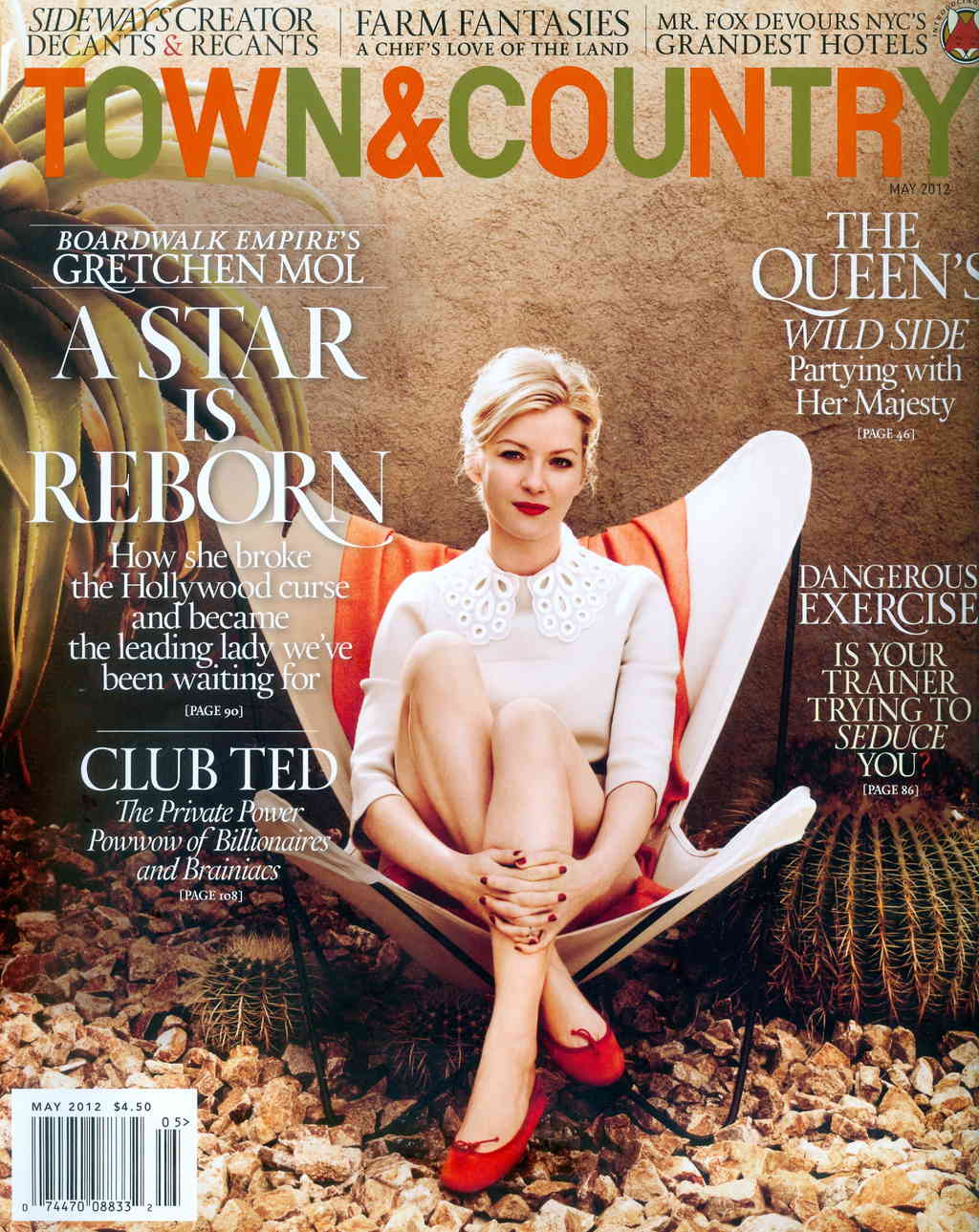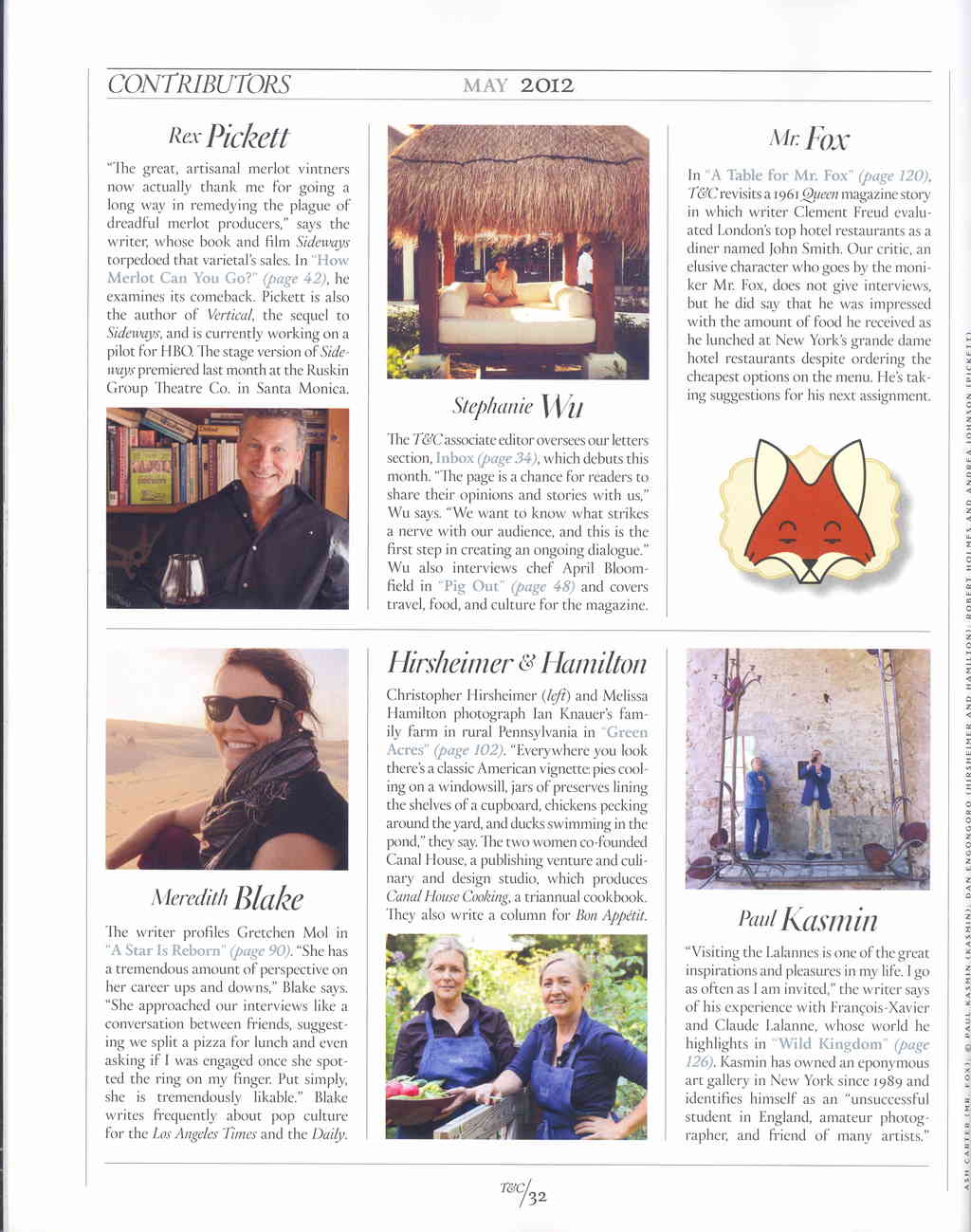 (點小圖變大圖﹐再點右下角變全螢幕)
Town & Country May, 2012
Inside Ad Agency DraftFCB's Gigantic Chicago Office Tower
With roughly 800 employees, the second-largest ad agency in Chicago is DraftFCB. (Leo Burnett is probably the largest).
http://www.businessinsider.com/tour-draftfcbs-gigantic-chicago-office-building-2012-4

My Mochi co-founder and I were interviewed for this blog. Thought you might enjoy!
The interview is below and also at this link:
http://changingfaceofamerica.com/2014/02/five-questions-with-maggie-hsu-stephanie-wu/

Five Questions With...
Maggie Hsu &

Stephanie

Wu
Co-Founders, Mochi Magazine
Envisioned as the "older sister you never had," the online destination Mochi Magazine is a hub of inspiration for Asian American women, addressing everything from college and career to lifestyle and entertainment. Maggie Hsu and Stephanie Wu founded the magazine while still in college to celebrate and empower Asian Americans, and the two have successfully grown the popularity of the site while also cultivating their own careers.
Hsu, who received her MBA from Harvard Business School and bachelor's degree in biology from Harvard College, works in strategy and operations at Downtown Project and was formerly a consultant with McKinsey & Company in New York. Wu, a journalism and East Asian studies graduate of New York University (NYU), acts as editor-in-chief of Mochi Magazine while also working as a senior associate editor at Town & Country. Wu's first book, Roommates, will be published by Picador in September 2014.
Inspired by these young entrepreneurs, we wanted to ask Hsu and Wu five questions about their college journey. Here's what they had to say:

1. Can you tell us where you went to college and what you studied?
MH: I went to Harvard College and studied biology. I always knew I wanted to go into business, but I wanted to study something that taught me to think in a rigorous, hypothesis-driven way.
SU: I went to NYU and majored in journalism and East Asian studies. I also minored in gender studies.
2. How would you describe yourself before and after college?
MH: In high school, my driving motivation was to get into a "good" college--all my decisions were evaluated based on whether or not they would get me into a good school. Once I was in college, my next step was suddenly wide open. The fact that I could pursue any range of opportunities was terrifying yet thrilling. I realized I wanted to do so many things but was afraid that by choosing one I would lose out on the others. I eventually settled on a philosophy that I would try not to close any doors; I would simply find new ones to open.
SW: I've always loved journalism--when I applied for college, I was looking specifically for an East Coast city school where I could study journalism, communications, or English. In high school, I was an overachiever--not necessarily when it came to grades, but certainly in terms of extracurriculars. I worked on the school paper, was on the drama team, participated in the student government and a multitude of clubs, and was on a cheerleading/dance team.
In college, I made sure to focus on what I truly loved, which was participating in yet another dance team and working at Washington Square News, the school paper. This allowed me to make time for my internships, which is what truly set me on my career path. When I graduated, I knew I wanted to work in the features department of a national magazine, and that's how I narrowed down my job search (though at that time, I would really have taken just about any magazine job that came my way!).
3. What's the most fun thing that happened to you while you were in college?
MH: I was part of the Taiwanese Cultural Society (TCS), and every year the freshmen had to organize our annual "Winterfest" cultural celebration. Freshman year, I planned the event with who would turn out to be three of my best friends. We had to prepare food for 300 people and none of us knew how to actually cook the Taiwanese food we had grown up eating. We ended up forming assembly lines based off of process flows, calculating to the exact egg how many eggs we needed, and deep-frying a lot of food including Oreos (which I do not think is remotely related to any Taiwanese food). I perfected cooking a scallion pancake with egg, which turned out to be the hit of the event.
SW: I knew studying abroad in Paris would be an incredible experience, but I had no idea just how much it would change me. There's something about living in a foreign city that forces you to let go of the little things and just enjoy being in the moment. I discovered just how much I love cheese, and Paris inspired me to fall in love with fashion and French culture. I'd jump at the chance to live there again.
4. Was there a time when you stumbled in college and were able to recover? How did you overcome the difficulty?
MH: I unsuccessfully ran for the business manager position of the Harvard Crimson, our school's daily newspaper. I had been a part of the paper since beginning college, and I was extremely disappointed that I wouldn't have the opportunity to lead the business side of the paper. However, I ended up running the training for new recruits and discovered a lifelong love of training and mentoring others.
SW: My East Asian studies major had a language requirement. I could have easily tested out with Mandarin, which I'm fluent in, but I wanted to challenge myself. Instead, I chose to start from the very beginning with Japanese, a language I have always been interested in. I was required to take six semesters of Japanese classes, which started out not-so-badly and then became increasingly difficult. Whenever I got a bad test grade, I'd kick myself for choosing to take the harder path. My Japanese classes were by far the worst grades I got, but I'm proud of myself for getting to the end. I haven't used my Japanese as much as I'd like since graduating, but it's good motivation for me to visit Japan again some time soon.
5. Were you involved in community service or civic engagement while in college? Why did you choose to become involved?
MH: I was on the Undergraduate Council (UC), the student government at Harvard, as an elected representative from my house. My parents had always encouraged me to participate in student government, but I had never fully understood the impact I could have by serving as an elected representative. While on the UC, I learned how to channel the tensions of my constituents and how to resolve conflicts through the democratic process.
SW: I'll admit that I wasn't as involved in community service as I could have been--I did the bare minimum that was required of honors scholars. However, I do see Mochi, which I co-founded with Maggie while in college, as civic engagement. The two of us connected in the same semester that I was taking an Asian American pop culture class. Before taking the class, I don't even think I'd fully grasped what Asian American meant--I thought I'd be studying Jay Chou or manga. My professor was one of the coolest women I've ever met--she wrote her graduate thesis on "Harold and Kumar Go to White Castle." I became fascinated with the academic field and knew there were others out there, like me, who grew up with a foot in both worlds but had never really reconciled what Asian American meant as a whole. And that, for me, was the inspiration behind Mochi--celebrating Asian Americans and empowering others to decide how (and whether) the term defines them.
* * *
About the "Five Questions With..." Blog Series
The "Five Questions With..." blog series--presented by the "We're the Changing Face of America" campaign--features the stories of students, public officials, business professionals, entertainers, and other notable Asian American and Pacific Islander (AAPI) leaders. These individuals are sharing their experiences in higher education to help inspire today's generation of AAPI students to reach for success.

About the "We're the Changing Face of America" Campaign
The "We're the Changing Face of America" campaign is a national public awareness effort dedicated to increasing access and completion among Asian American and Pacific Islander (AAPI) students, the fastest-growing student population in U.S. colleges and universities. Launched in March 2013 by the Asian & Pacific Islander American Scholarship Fund (APIASF) and the National Commission on Asian American and Pacific Islander Research in Education (CARE)--the leading AAPI student- and research-focused organizations, respectively--the campaign works through strategic partnerships to help ensure that access and success challenges experienced by the AAPI student population do not continue. The campaign supports the Partnership for Equity in Education through Research project, which works to improve educational outcomes for AAPI students.

My little girl's first book will be released on August 5, 2014.
http://www.amazon.com/The-Roommates-Friendship-Disturbingly-Quarters/dp/1250051452
I like the cover very much. Hope you all like it.
2014, 05, 29

2014, 08, 05 The Leonard Lopate Show at WNYC
http://www.wnyc.org/story/love-hate-and-roommates/
http://www.4thgrader.net/vault/files/20140805lopate080514dpod.mp3
2014, 08, 10 Half time show at Madison Square Garden, WNBA: New York Liberty vs Indiana Fever
https://www.youtube.com/watch?v=oOwl4jec7Fk&feature=youtu.be
2014, 08, 12 AirTalk with Larry Mantle (89.3 KPCC)
http://www.scpr.org/programs/airtalk/2014/08/12/38828/how-to-be-a-good-roommate/
http://www.4thgrader.net/vault/files/20140812ROOMMATES-c1da4416.mp3


http://www.adweek.com/digital/mic-hires-stephanie-wu-as-food-and-travel-editor-ahead-of-the-launch-of-its-new-channel/
Mic Hires Stephanie Wu as Food

and Travel Editor Ahead of the

Launch of Its New Channel
Wu arrives today, Out of Office launches in a few weeks
From the room where Mic publisher Cory Haik is speaking over the phone to Fishbowl, she can see the publication's newest hire, Stephanie Wu, getting settled on what is her first day. "There's a lot of excitement about Stephanie," says Haik of Wu, who joins as editor, food and travel, and will be responsible for overseeing Out of Office, the food and travel-focused digital channel that is set to launch in a few weeks. When it does, it will be joining a lineup of seven topic-specific digital channels Mic introduced at the end of March.
In many ways, the path Wu has set for herself mirrors what Haik hopes to achieve with Out of Office, from Wu's "experience in the luxury world of travel and food" to "her very entrepreneurial and scrappy sensibility to build something and to build an audience" to the "community-building Stephanie will be uniquely suited for." Haik is describing Wu's most recent role as senior editor at Travel + Leisure as well as her role as founder, in 2008, of Mochi Magazine, a site that describes itself as "dedicated to young Asian American women."
"It's such a modern approach to journalism, to publishing," says Haik, "to work at someplace like Travel + Leisure but then also build your own brand and your own publication by way of harnessing the power of internet and growing your audience by social."
That is, in fact, how Mic has grown its own channels, many of which began life on social before being introduced on Mic's digital site. Out of Office currently exists as an Instagram account that provides a bite-by-bite survey of food offerings from around the world. But the plan for the Out of Office channel is larger than serving as a mere repository for food porn.
"We'll cover the basics," says Haik, "the most important destinations, the foods you should eat, but we think there's a lot more nuance within the world of travel, particularly for our demographic, which we'd probably describe as being seekers." The channel will cover food and travel in a way that addresses that sensibility and the particularities of how its audience travels. "They're consciousness about their footprint, wanting to travel authentically, and in a lot of ways the share economy has enabled a lot of that, and so we'll touch on those kinds of pieces and how to travel in a very authentic fashion where you can really embed with a community or eat that authentic food that you want and then share those experiences by way of social media."
While inhabiting the luxury and lifestyle sphere, the channel will also stay true to its Mic-ian roots, corresponding, as Haik describes it, to "Mic's overall values in how we think about the world."
But Out of Office and other channels allow Mic to expand its advertising opportunities. "It's not always easy to monetize tragedy or things that are complicated," Haik said in a recent podcast interview with Digiday editor in chief Brian Morrissey, describing how the hard news stories upon which Mic was built are "not always the most appetizing thing for brands." The channels, rich in multi-platform advertising opportunities, including video, where Mic is making a concentrated effort, provide that entry point–especially those channels that deal in soft news.
Our audiences want this content, so if we can bring our brand partners together in something that feels very editorially strong in the right direction, it's sort of a win/win," says Haik.

2017, 04, 17

Stephanie wrote a story about our Scotland trip! Enjoy:
https://mic.com/articles/182853/for-harry-potter-fans-the-best-way-to-relive-the-series-is-in-edinburgh-with-a-side-of-scotch#.6DZEXRCqQ​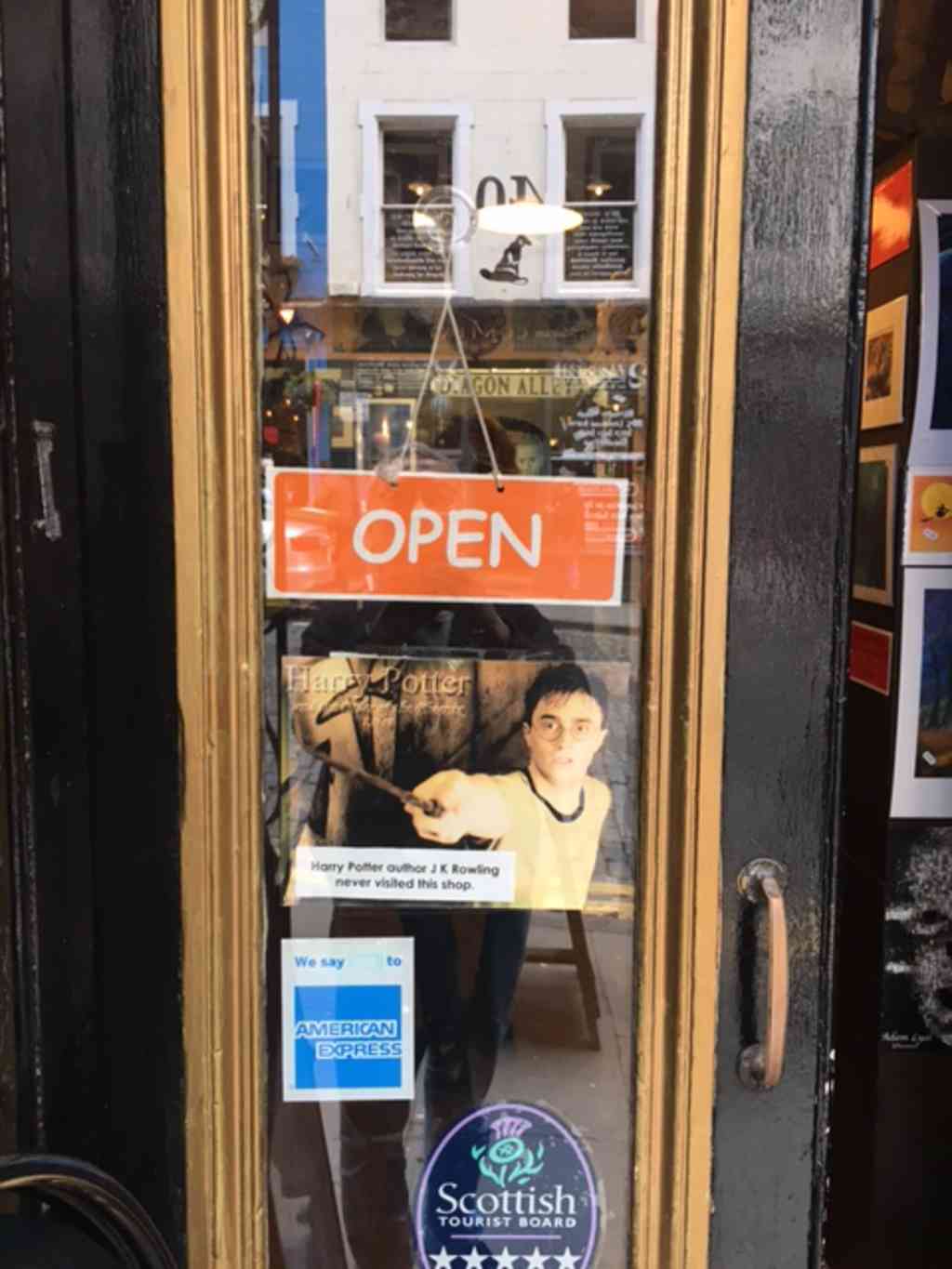 (點小圖變大圖﹐再點右下角變全螢幕)
Harry Potter author J K Rowling never visited this shop.

2017, 07, 26
本文引用網址: